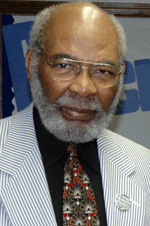 Pastor Richard Gammage
Pastor Richard Gammage and the members of New Pleasant Grove Missionary in Macon, Georgia received the Church Community Service Award. This award was presented on October 28, 2012 at the 2012 Earl T. Shin holster Freedom Fund Awards Banquet.
New Pleasant Grove is known for opening its doors to all political candidates for forums before each election. On Election Day rides to the polls are provided. Every year the pastor and members participate in the King Day March and the Emancipation Proclamation program.
The members provide a free breakfast every Sunday morning for its members and the sick in the community. Once a month, they send a van to pick up the homeless and serve them a hot lunch.
They also provide a clothes bank for anyone who needs it.
Every year the children in the community are invited to Vacation Bible School, they have plenty study material, and they are given a hot meal. Rides are provided for those who need it. The children of the community are also invited to a Fall Festival or a Back to School Festival. The members also have a liaison with Burdell Hunt Elementary School and seek to do what's needed for the school.
Each year the children and youth are afforded an opportunity to extend their horizons by going on trips which have included Selma, Birmingham, Orlando, Memphis, Atlanta, Nashville and much more.
The Super Seniors of the Church and the Ladies Progressive Club have traveled to various cities, attended the State Fair, the National Fair, and the Cherry Blossom Fair.
Congratulations to Pastor Richard Gammage and the members of New Pleasant Grove Missionary Baptist Church.