by Deborah E. Dennard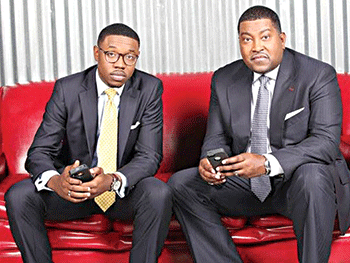 Rev. Reginald Sharpe and Dr. E. Dewey Smith, Jr.
In the same fairytale story of LeBron James coming back home to the Cleveland Cavaliers after he won a few championships, after phenomenal success, Dr. E. Dewey Smith, Jr., the pastor of House of Hope Atlanta, has decided to come back home to Macon.
"I'm a proud Macon native, the home of the Fish Dock, home of NuWay, Home of Saleem's. I'm a proud 1988 Central High School Graduate, who was brought up in Macedonia Church.....a whole lot has gone into forming who I am." Smith went on to explain, "After I left Macon, God has done amazing things, but there is no place like home. For about 8 or 9 years, my wife and I have gone back and forth over how can we do ministry in Macon. I'm still called to do ministry in Macon."
Dr. Smith, who pastored Beulahland Bible Church for 13 years, is starting a new ministry here, the House of Hope Macon. Dr. Smith will be able to balance this with the help of a young minster by the name Rev. Reginald Sharpe.
Sharpe had this to say about Smith. "I've watched him, admired him, looked up to him. He's been a role model. He's taken me under his wings. For me to have the opportunity to be chosen by my pastor to assist him, I'm humbled and honored."
Pastor Sharpe, 23 years old, was born and raised in HOH Atlanta. At 15, he preached his first sermon in the church. Smith said, "When I've gone on vacation, he has been my preacher's assistant there. I can be gone anytime as long as he is there. Two can do a whole lot more than one. He is going to be the predominant pastor in Macon, but I will be here one or two times a month. When I'm here in Macon, he will be in Atlanta. When he is in Macon, I will be in Atlanta," Dr, Smith explained. In addition, Smith is significantly reducing the amount of speaking engagements he has scheduled in the past.
Sharpe will eventually become successor of the HOH ministries as senior pastor when Smith retires in about 14 years. "When I get 59, I will have 40 years in the ministry. I want to go out when I'm vibrant." Smith elaborated on his vision, "Over the next 5 to 7 years, God has given us a vision to launch 5-7 churches. Our next one is Stockbridge, Georgia, and one in Freeport, Bahamas. God has already given us a pastor in Freeport, Bahamas, that will be launched next year. I will be kind of the bishop."
In a few months, there will be a church consecration service for HOH Macon. Bishop T. D. Jakes will preach that service. Additionally, Pastor Sharpe will also have an installation service soon.
The inaugural worship services for the HOH Macon will be held at 11:00 a.m. Sunday, January 11th at Macon Charter Academy (151 Madison Street, Macon, GA 31201) with which the HOH Macon has partnered. Dr. Smith will preach on the inaugural Sunday service. Bible study will be taught by Dr. Smith on Tuesdays at 7:00 p.m. (not by satellite).
God gave Pastor Smith a vision years ago to affect lives through education and prison re-entry, and he is very excited about seeing it coming to be with this partnership with Macon Charter Academy, a tuition-free public charter school in Macon, GA that will seek to use the International Baccalaureate programs for grades K-8.
Charles Rutland, who co-founded the Macon Charter Academy with his wife Monya, expressed, "We are excited to be partnering with E. Dewey Smith, Jr. and the HOH Macon. That's an excitement that reverberates throughout the entire board of directors. The votes on the board of directors were unanimous. The major goal of this charter school effort was to bring resources to those who had been denied resources. The partnership with the HOH only augments and amplifies our ability to do that, to bring more resources into that community and into Macon and Bibb County overall."
The Macon Charter Academy is now housed in what used to be Progressive Christian Academy. HOH Macon will honor and pay homage to the legacy of its founder, Dr. Betty Tolbert.
Smith explained, "Our board approved that starting January, HOH will be responsible for Dr. Tolbert's rent until the Lord calls her home. She was my elementary school principal at Alexander II. We are in this church because of Dr. Tolbert. It would be the epitome of wickedness to be the recipients of her vision and not sow back."
Minister Tony Lowden, youth pastor of Lundy Chapel of Macon and a commissioner of the state charter schools, is overjoyed about the partnership.
"I'm excited about Smith coming back to Macon. He is sure to bring a freshness here. I am even more excited about him partnering with the Macon Charter Academy. I've heard his heart about education and changing our community. He believes that we must educate our children. If we don't educate our children, they will never have an opportunity to understand the gospel of Jesus Christ. I'm excited to see him stand up and be for education along with the Tabatha's House that he has in his ministry in Atlanta which stops human trafficking, I'm excited about the fact that he is partnering with Macon Charter Academy because I believe it will change Macon. When you have the church and the educational system on the same page, that's a win-win for our city and community."
Ten years ago, Pastor Smith resigned his position as Senior Pastor of Beulahland to assume the pastorate of The HOH Atlanta. Last month, Smith shocked many when he declared "Macon, I'm coming home," and announced an extension of the ministry with the scheduled launch of The HOH Macon on Sunday, January 11, 2015. On his upcoming return to his home city, Smith shared:
"My mother and a longtime friend/mentor, Eddie Tukes both prophesied to me eleven years ago that I'd have a ministry presence in Macon again before I turned 50 years old. Well, God is sending us back and we're ahead of schedule."
Years ago, Pastor Smith shared his vision with Rev. James Mason III, pastor of The Church of the Way in Birmingham, Alabama. Mason served as the executive pastor at Beulahland under Smith's leadership and went on to serve on the ministerial staff at the HOH Atlanta before moving to Alabama.
Pastor Mason began, "I think Smith's return is awesome. It really fulfills the vision that he had while in Macon. While serving at Beulahland with him, I remember his sharing the vision of planting churches in other parts of Macon, so I'm excited to see how God has blessed him throughout the years. The church in Atlanta is blessed, and the church in Macon will be as well because it is the fulfillment of what God spoke to him years ago, and I'm excited about it."
Mason went on to talk about the kind of pastor Dr. Smith has proven to be. "Out of all of the pastors I have been blessed to serve with, he is probably at the top of the list as one who has made an impact for me, not just as a pastor, but as a man. When I met him, I was down to nothing, and were it not for E. Dewey Smith Jr., I don't know if I would even still be in ministry. I honor him; I appreciate him; and I wish him the best."
Rev. Shelton Brown, Jr., who was raised in Beulahland and now serves as Pastor of Rehoboth Family Worship Center of Macon said, "I'm more than excited to see my childhood pastor return to pastor in the city. Although he hasn't pastored in the Pleasant Hill area, he has been a consistent leader in the lives of many. I look forward to him bringing a fresh wind and working collaboratively with other pastors and leaders to change this area."
Dr. Smith began his preaching ministry under the leadership of his father, Dr. Eddie D. Smith, Sr., of Macedonia Church. Dr. Eddie Smith wishes his son the best. "As long as he follows the Lord, he will continue to do great."
At age 19, Dr. E. Dewey Smith, Jr. began pastoring at Beulahland Bible Church. God showed him tremendous favor by allowing explosive growth and outreach to accompany his ministry. The membership grew from 48 to over 3,000 people in 13 years.
"At Beulahland, our ministry was about giving hope. We wanted our church to be active in the community and not just on Sundays. We started a daycare center in 1996. God blessed that ministry. We had about 160 children. First Step Day Care Center provided a safe haven for children and parents, a Christian environment.Our goal and vision was to eventually segue into private education. Part of our vision and goal was to purchase Gilead Christian Academy on Rocky Creek Road. The goal was to allow our day care to grow. God gave me a vision way back then to have a campus that we could minister to people, to have options. It was a huge vision, and one that we were unable to finish, but it always stuck in my spirit that God showed me but it didn't materialize."

Although this vision did not materialize at Beulahland, many aspects of his vision materialized in Atlanta at Greater Traveler's Rest better known as the House of Hope Atlanta. Under Dr. Smith's leadership, the membership roll has grown from several hundred to approximately 11,000 with 7,000 people in attendance each Sunday. Additionally, a myriad of capital improvements, enhancements and investments in the community have been made as well as outreach ministry like Tabatha's House for girls between 11-15 who have been victims of human trafficking.
While Smith and the HOH Atlanta is instrumental in ministry in Atlanta, there still has always been a soft spot for Macon for this home boy.
"One of the challenges to me has been Macon, my home... When I see men shooting and killing, I am grieved. We were able to reach young men in the streets that were not attending church anywhere, and that was our ministry to reach those kinds of people. That was my ministry; I'm still called to that now."
When Dr. Smith's ministry was here in Macon, under his leadership, his congregation began a community development outreach as well as started a non profit organization for men called the Starting Point. This was a program geared toward men who had been incarcerated and/or had substance abuse. The church collaborated with the department of juvenile justice and court systems to find men who had been incarcerated or had a history of substance abuse. Starting Point provided them a haven to do detoxification and clinical evaluations as well as complete an on campus nine to twelve month program with the goal of producing complete and independent men of God. They collaborated with 11 corporations to get the men jobs. About 80 men to came through their program with 16 completing the program successfully and were acclimated back into society.
Dr. Smith still holds this ministry close to his heart. He now serves on the Governor's InterFaith Council which advises on challenges to prison re-entry in communities across the state.
When asked about his work with the governor, Smith had this to say, "I'm trying to build bridges. What I appreciate about Governor Deal is that his heart for re-entry for African American men is unparalleled. They finally are getting that the money we are spending in incarceration, we can spend in education and rehabilitation." He went on to explain, "Having access to people to have these conversations is important. Governor Deal has invited me to preach his inaugural service January 12th, and I've been talking to him about Macon. He knows about this charter. He knows what we are trying to do. So, if we can minister through Charter schools and re-entry, we can affect change. My having access to the governor is a great opportunity. You can't speak to Caesar if you don't have Caesar's ear."
Macon is excited that one of her sons has decided to come back home, and welcomes Smith with open arms.
Dr. E. Dewey Smith, Jr. is the husband of Andrea Fambro Smith, the father of Kamari and Kylen, and son of Eddie D. Smith, Sr. and Verline Smith.
© Copyright 2015 by The Informer, Inc.
P.O. Box 564, Macon, • GA 31201 * Ofc:  478-745-7265 * Email: gainformer@yahoo.com