Congressman Sanford Bishop, Rev. Al Sharpton, and Founder of the Informer Herbert Dennard. Photo Courtesy of Herbert Wynn
by Deborah E. Dennard
"Even if you're not responsible for being down, you are responsible for getting up. If you're down, get up!" Known for his skills in oratory, it is no surprise that Rev. Al Sharpton is a prolific pulpiteer. Inspiring words like these from his sermon, "And So Will I Be with Thee," kept the nearly 2000 people on their feet, clapping in affirmation.
Dr. Maurice Watson, pastor of Beulahland Bible Church, wanted to do something different this year in celebration of black history month. "This year, I wanted to bring someone who has been fighting for the downtrodden, bringing truth to light," Watson expressed. So, the invitation was extended for Sharpton to come to Macon to bring the Word.
Although Sharpton was given the key to the City of Macon by Macon's Mayor Robert Reichert, a resolution by Georgia State Representative Nikki Randall, and a Certificate of Special Congressional Recognition by U.S. Congressman Sanford Bishop, Sharpton remain focused on the purpose of his visit, to preach the unadulterated truth and bring the Word.
Service began with beautiful traditional gospel selections from the 100 plus members of the Beulahland Bible Church Mass Choir who were dressed in their festive African attire, a praise dance from the dance ministry, and an awesome rendition of Dr. Martin Luther King, Jr.'s "I Have a Dream" speech given by six year old Ashton Young.
Rev. Al Sharpton and Dr. Maurice Watson
Photo Courtesy of Charles Collins & Bernard Dawson
The sermon was taken from Joshua 1:5. Sharpton preached about how God assured Joshua that just as He was with Moses during his leadership, so would He be with Joshua. This sermon was uplifting and was delivered in his infamous fashion, intertwining the Word with a message for blacks during Black History Month.
"We didn't get this freedom to become thugs of Macon. We shouldn't only observe black history, but we should make black history," Sharpton urged the congregation. He went on to say, "What troubles me is many of us have our souls corrupt. When I was growing up, the culture was different. Today, we lower expectations and lower standards; therefore, lower the community we are in...Blackness has never been about how low we can go. It has always been about how no matter how low they put us, we'll figure out how to get up!"
Rev. Al Sharpton and Macon Mayor Robert Reichert
Photo Courtesy of Charles Collins & Bernard Dawson
Finally, Sharpton reminded the congregation not to worry about the sequestration. "We used to sleep in slave houses; now we sleep in the White House. We made it through that mess, and just like God was with us through that mess, so shall He be with us during this one!"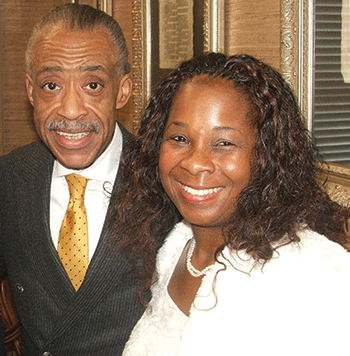 Rev. Al Sharpton and Debbie Dennard
Photo Courtesy of Herbert Wynn
There were many dignitaries in attendance for this historical service: City of Macon's Mayor Robert Reichert; C. Jack Ellis, former mayor of Macon; U. S. Congressman Sanford Bishop; Sheriff David Davis of Bibb County; Bibb County Commissioner Sam Hart; Macon City Council members Elaine Lucas, Virgil Watkins, and Lauren Benedict; Macon Black Pages Publisher, Alex Habersham; founder of The Informer, Herbert L. Dennard, Sr.; District Attorney David Cooke; Attorney Virgil Adams, NAACP president, Gwennette Westbrook, and Beulahland's own Georgia State Representative Nikki Randall and her father who serves as a deacon in the church, Judge William Randall.
6 year old Ashton Young recite " I Have A Dream" speech by: Dr. Martin L. King, Jr. Photo Courtesy of Charles Collins & Bernard Dawson
Rev. Sharpton, known as the voice of the voiceless and a champion of the downtrodden, is the host of MSNBC's "PoliticsNation," and a radio show "Keepin it Real." In addition, he is the founder and president of the National Action Network, a not for profit civil rights organization headquartered in Harlem, New York, with over 50 chapters nationwide. Furthermore, in 2004, Sharpton threw his hat in the ring for presidential candidate of the United States, joining the ranks of the other African Americans who had done so before President Obama was elected: Dick Gregory (1968), Rep. Shirley Chisholm (1972), Rev. Jesse Jackson (1984,1988), Lenora Fulani (1988), Alan Keyes (1996, 2000), and Senator Carol Moseley Braun (2004).
The DVD's from this service are available at the Beulahland Bible Church at 478-784-1555 and www.beulahland.org. Worship services at Beulahland take place at 7:30 a.m. and 11:00 a.m. at the 1010 Newberg Avenue (North) location in Macon, Georgia, and at 9:15 a.m. at the 2368 Gunn Road (South) location.
© Copyright 2013 by The Informer, Inc.
P.O. Box 564, Macon, GA 31201 - Ofc: 478-745-7265 - Email: gainformer@yahoo.com