David B. Wynn was born on July 27, 1971 in Warner Robins, Georgia to parents Daisy Wynn and the late Frank Wynn, Sr. At the age of five, in August of 1976, David joined the Greater Springfield Missionary Baptist Church in Warner Robins, Georgia where he was baptized. It was there that he served faithfully for over 14 years as a Choir member and served on the Usher Board every Sunday. He was also a member of the Royal Ambassadors for Christ.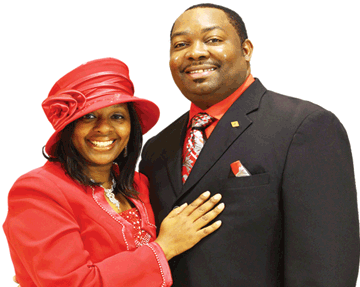 Pastor David B. Wynn (Right) and Angel Cook Wynn (Left)
David was educated in the public schools of Houston County and is a 1989 graduate of Warner Robins High School. In September of 2001, David Wynn and Angel Cook married and unto this marriage they have four beautiful children, Brinson; Kayla; Brianna and Ariel. Every day, Reverend Wynn thanks God for his family. On the 4th Sunday of September 2003, David Wynn was ordained as a Deacon at the Rocky Mount Baptist Church in Rex, Georgia. He served faithfully as a Sunday School Superintendent, Sunday School Teacher and as a Bible Study Teacher.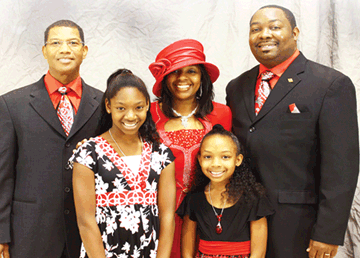 Pastor David B. Wynn (Right) And Family
On January 9, 2004, David Wynn answered the call to preach the Gospel of Jesus Christ. He preached his first sermon, Wait on the Lord, on the 4th Sunday of June 2004 and became a licensed Minister of the Gospel; Rev. Wynn was well on his way to becoming one of God's dedicated servants. In need of a church home for his family, Rev. Wynn, along with his wife Angel and the children, joined Dixon Grove Baptist Church in Jonesboro, Georgia on the 4th Sunday of September 2004. Rev. Wynn was ordained and served faithfully as an Associate Minister on the Ministerial Staff and as a Spiritual Advisor for the Hospitality Ministry and the New Generation Ministry.
In May of 2009, Rev. Wynn and his family decided to relocate and move back to Warner Robins. For eleven months, Rev. Wynn waited patiently to hear God's voice because he was striving to give God his very best. With much prayer and careful planning, and with a deep desire and compassion, Rev. Wynn started a Bible Study teaching on Salvation on April 7, 2010.
Rev. Wynn knew the Bible Study wasn't enough, so with his Bible in his hand and a vision from God, he stepped out on faith and did what many thought was impossible for a young preacher to do in Warner Robins, Georgia and on September 26, 2010, he started God's Church and became the Pastor and Founder of Mount Carmel Missionary Baptist Church.
Rev. Wynn's main goal and objective in life is to love everybody, recruit sinners, build up the saints, and become one of God's greatest preachers that has ever preached the Gospel of Jesus Christ.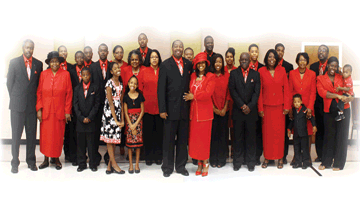 Mount Carmel Missionary Baptist Church, Inc. was organized on September 26, 2010 under the leadership of the Rev. David B. Wynn. The first service was held at the New Beginning Childcare Center located at 620 Wellborn Road in Warner Robins, Georgia. With a crowd of almost 30 people, Rev. David B. Wynn mounted the pulpit that Sunday morning and preached his first sermon as leader of the crowd, entitled And They Were All On One Accord. After the preaching of the gospel, Rev. Wynn opened the doors of the church and he and his wife, Angel, his daughters Brianna and Ariel Wynn and Brother Kerry McKenzie joined the church.
Later on, that same day, "WHEN THE EVENING HAD COME", Pastor James E. Harris and the congregation of Dixon Grove Baptist Church Family came down on what might have been one of the rainiest nights ever in Georgia, to plant a seed, to touch and agree and help establish what God had already ordained by installing Rev. David B. Wynn as the Founder and the first Pastor ever of Mount Carmel Missionary Baptist Church.
17 months have passed now and the church, which started out with five faithful members, has grown to over 40 strong and faithful members.
Many ministries have been birthed at Mount Carmel, including the Ushers Ministry, the Choir Ministry and the Fresh Food Basket Ministry. Future ministries include the Youth Ministry and the Brotherhood Ministry.
If you ask Pastor David B. Wynn what he thinks about the growth of the church, he would probably tell you, "it's all good", but he knows deep down in his heart that IT'S ALL GOD.
HISTORY IN THE MAKING -- TO GOD BE THE GLORY