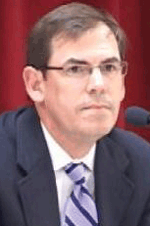 Gary Bechtel
A preliminary outside financial audit commissioned by Bibb County Board of Education Superintendent Dr. Romain Dallemand produced discrepancies and misuse of funds throughout the Bibb County School System during the time period that was explored. The audit was conducted by independent accounting firm McGladry & Pullen, LLP of Minneapolis, Minnesota, one of the largest accounting firms in the world. Disbursement of funds was examined in all eight Bibb County high schools and in four of the seven Bibb County middle schools
(Appling, Ballard-Hudson, Rutland and Weaver). The audit covered the time period from July 1, 2008 through January 19, 2012 and consisted of four areas of exploration: cash accounts; membership accounts; credit cards; and service agreements. Discrepancies were discovered in all four areas.
Results of the forensic audit were presented to Dallemand, Board of Education members and members of the press by Debra K. Thompson, Director of Financial Forensics and Valuation Services with the company, at the Bibb County Board of Education board meeting on March 15, 2012. Some of the practices discovered were inexcusable, such as the case of one school keeping blank, signed checks for use when the principal is not available, a practice that violates state policy for financial management and the Bibb County School District's own policies. Following are some of the more glaring results from the audit.
In the area of cash accounts:
- 149 employees received paychecks more than 100 days after their termination date. One employee received a payroll disbursement over nine years after the termination date.
- Overtime pay was awarded to 897 employees, with one employee receiving a regular paycheck of $278 gross pay and $2,085 in gross overtime pay.
- Two bids were supplied by Dr. Dallemand for relocation expenses to Bibb County from Rochester, Minnesota where he served as Superintendent. An additional company was provided by then Board Chairman Dr. Gary Bechtel, which came in as the lowest bid. Dr. Bechtel's recommendation was chosen and Bechtel approved payment of the invoices to the company; the final amount paid being $1,150 more than what would have been spent had one of the bids that Dr. Dallemand obtained been selected.
In the area of credit cards:
- In at least three instances, personal purchases were made using a Bibb County School District credit card.
- Payments to the credit card were made based on monthly statements rather than on individual invoices, a violation of the Principal's Handbook. Moreover, according to the same manual, checks should have been used rather than a credit card.
- None of the seven schools that possessed credit cards submitted proof that the credit cards were cancelled, as per instruction by the Bibb County Board of Education CFO on February 10, 2011. The last payment on a credit card was made on September 29, 2011.
The above information was obtained from only three of the seven schools; the other four schools did not produce documentation as requested by the accounting firm performing the audit. The three schools that produced documentation spent between a low figure of $1,207 to a high of $133,388 over the three-year period.
In the area of membership accounts:
- Partially completed business checks were given to purchasers, who would fill in the amount at the time of purchase.
- Checks were written with an estimated amount filled in -- purchaser would either pay any overage out-of-pocket or receive cash back from the purchase, later returning excess funds or requesting a reimbursement for their out-of-pocket expense.
With memberships, Thompson recommended that schools with Sam's Club memberships discontinue the practice and instead, make purchases through a central purchasing department. She cited a state document that showed that schools that purchase needed supplies in this way save from 10% to 35% over those that do not.
In the area of service agreements (outside contractors):
- In some instances, contracts did not have approval from the proper employee (Department Head, Deputy-Superintendent, CFO or Director of Human Resources).
- In some instances, disbursements were paid to contractors based on invoices rather approved contractor agreements.
- In some instances, he amount paid exceeded the amount approved.
- In some instances, contracts were "updated" to reflect increased amounts that had not been approved.
All of the above findings reflect Phase I of the independent audit and recommendations for correction were submitted by McGladry and Pullen to the Bibb County Board of Education at the meeting. The school system may decide to enter a second phase that would involve the firm digging deeper into the discrepancies that were found.
The Bibb County Board of Education voted to hire Dr. Dallemand as Superintendent at a Called Board Meeting on December 10, 2010 and he officially became Bibb County's School Superintendent in February of 2011.
Amid a flurry of bad press and uninformed bias, Dr. Dallemand commissioned the independent audit as a means to identify financial improprieties within the Bibb County School District, a necessary step toward financial accountability and integrity within the Bibb County School District.
Dr. Dallemand holds a Doctorate in Educational Leadership from the University of Sarasota in Sarasota, Florida; a Master's degree in Learning Disabilities and Emotional Disorders from the University of Miami in Miami, Florida; a Master's degree in Mental Health Counseling from the Carlos Albizu University in Miami, Florida; and a Bachelor's degree in Psychology from Mid-America Nazarene University in Olathe, Kansas.