Warner Robins, Ga. - Central Georgia Technical College's (CGTC) Adult Education and Career Opportunity Center (AECOC) is set play an integral part in preparing students to be workforce ready.
"We stand ready with a vision and mission to educate, train and prepare people to go to work and college," said Brenda Brown, vice president of the Adult Education Division at CGTC. "Tell someone you know that, We Create Success Stories."
Brown is referring to the motto of the AECOC and the success of its goal to have every student ready for a career or college.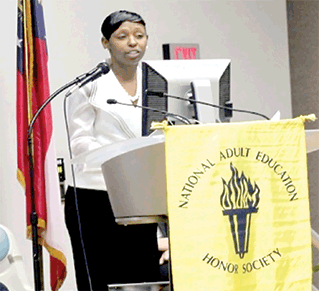 Jaquetta Coleman speaks at the National Adult Education Honor Society Spring 2017 Induction Ceremony at CGTC.
Quite a few success stories have come from the Division over the last fiscal year. Jaquetta Coleman, an Early Childhood Care and Education major, was selected as the 2017 Exceptional Adult Georgian in Literacy Education (EAGLE) delegate for the College. The award honors students who have demonstrated superior achievement in adult education classes and programs. 
With her family as her motivation, and hard work, Coleman was selected out of a group of instructor-nominated peers for her commitment and academic progress. Coleman also represented the College at the EAGLE Leadership Institute in March and was the keynote speaker at the National Adult Education Honor Society Induction Ceremony last spring.
Cora Leonhardt, a resident of Crawford County, entered the CGTC Adult Education program in February 2017. Once she enrolled in classes, she immediately made progress in her reading, math, and language scores.  One of her instructors recommended the Accelerating Opportunity (AO) program to her, and she began to live out her success.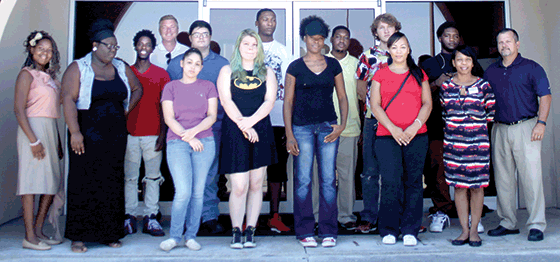 Dually-Enrolled students in  Accelerated Opportunity, GED, and Central Georgia Technical College classes 
The Accelerating Opportunity (AO) program is designed to provide students with a learning experience that combines simultaneous GED® test preparation and courses to obtain a Technical Certificate of Credit (TCC) within one to two semesters.
Leonhardt knew that CGTC's Welding and Joining courses were the right fit for her career goals, and with the help of her AECOC staff and college instructors, she began work toward a GED® and certificate.
"It wasn't easy," Leonhardt said. "The AO program demanded a lot of my time and effort, but I've always been the kind of person who knows that hard work will pay off in the long-run. Now that I've had success with earning my GED®, and I'm taking college classes as well, I know who I can turn to for help so that I can keep furthering my education."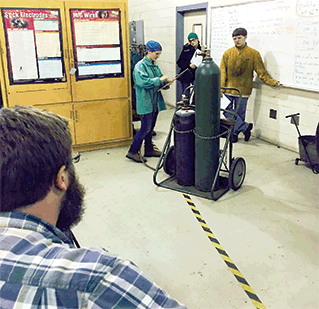 Cora Leonhardt (center) prepares her tools for welding in class.
Success stories continue to develop as the AECOC operates under the Workforce Innovation and Opportunity Act (WIOA), signed into law in 2014, which rolled-out a vision for how America prepares an educated and skilled workforce that expands opportunity for workers and employers. According to the U.S. Department of Labor, WIOA represents the most significant reform to the public workforce development system in nearly 20 years.
The legislation asks core educational, industry and workforce leaders to work together to provide a "one-stop" strategy for employment and job training services to adults and out-of-school youth ages 16-24. CGTC routinely manages partnerships, internships, tours, job shadowing, and designated mentoring programs with community business leaders to improve students' pathways to success.   
The Department of Labor, WorkSource Georgia (Macon/ Bibb and Middle Georgia), Health and Human Services, the Office of Vocational Rehabilitation, and other organizations will collaborate with AECOC to remove barriers to success, provide academic support for college and career exploration, as well as develop soft skills and employability traits. This collaboration will strengthen and improve the local workforce system and provide high quality jobs and careers.  
To accomplish its goal, the Center assigns a Student Navigator to each enrolling student who will provide support in helping them obtain their GED®, with options for Accelerating Opportunities and job connections. Services include developing readiness skills with Best Plus-Soft Skills in partnership with the Department of Labor, financial literacy, computer literacy, nutritional/health literacy, referral to support agencies, and transition to college and careers. The Center also provides English as a Second Language (ESL) classes for students desiring to learn to speak English and/or want to become an American citizen.
About Adult Education
In 2017, the Adult Education Division of CGTC enrolled 2,645 students in GED® Preparation and Integrated English Literacy/Civics Education; 90% of CGTC GED® Preparation students who identified GED® completion as their goal earned their credential in the 2017 fiscal year, compared to the state of Georgia's 88% rate; and, it produced 708 graduates.
In addition, Adult Education initiated project REBOUND with area school systems, designed to reduce the dropout rate, increase enrollment, and increase the graduation rate. It serves as a continuous conduit to reach high school students who did not graduate and will not return to school in following academic year.  Adult Education also expanded by offering students access to counseling services. 
On September 9, 2017 the Adult Education Division and CGTC Foundation will host the 8th Annual 5-K and Obstacle Run to raise funds to provide GED® scholarships and assist its students in paying registration fees and other critical needs. For more information about the Race for Education visit http://www.centralgatech.edu/foundation/events/
For more information on Adult Education, contact Shira Mackey at smackey@centralgatech.edu or visit, http://www.centralgatech.edu/adult-education/.
© Copyright 2017 by The Middle Georgia Informer, Inc.
P.O. Box 564, Macon, • GA 31201 * Ofc:  478-745-7265 * Email: gainformer@yahoo.com