The Peyton Anderson Foundation awarded 22 graduating Bibb County high schoolers with college scholarships at the annual Peyton Anderson Scholars Awards Luncheon on May 6, 2011, held in the Banquet Hall of the Charles H. Jones building on the Macon State College campus in Macon, Georgia.
Peyton Anderson Scholarships have been established to help fund a college education for highly promising high school students in Bibb County, Georgia who demonstrate academic promise, strong character, community involvement and financial need. This year marks the third year that the Foundation has selected promising young men and women to receive scholarships to the college of their choice. Each year has seen a larger number of awards and this year, twenty two scholars were selected from sixty applications.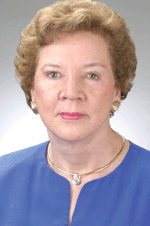 Juanita Jordan
Peyton Anderson Foundation President and Trustee Juanita Jordan hosted the event which was attended by the Foundation's Board of Trustees; its Scholarship Committee; Foundation staff and the 2011 awardees and their family and friends, the 2009 and 2010 scholars, as well as local news media covering the event.
The invocation was given by Laurence Schlesinger, Macon City Councilman and Rabbi of Temple Beth Israel in Macon, Georgia after which lunch was served, complete with an ice cream bar.
Guest Speakers for the luncheon were Deborah Awoyeye, 2010 Peyton Anderson Scholar and Dr. Kirby Godsey, Peyton Anderson Foundation Trustee. Miss Awoyeye spoke about how much the scholarship awarded to her last year had helped her. "The Peyton Anderson Foundation has no racial barriers," she said. Awoyeye advised this year's recipients to make good use of their scholarship and their time and not to "party too much". Peyton Anderson scholars must give 20 hours each year in community service to satisfy requirements of the scholarship.
Dr. Kirby Godsey
Dr. Godsey, former President and CEO and current Chancellor of Mercer University, served as President of Mercer longer than any of his predecessors and is credited with leading the university in forming partnerships with Piedmont Healthcare of Atlanta; Memorial Health University Center in Savannah; the Medical Center of Central Georgia in Macon; as well as Robins Air Logistic Center in Warner Robins, Georgia. Dr. Godsey is the author of several books and publications including When We Talk About God, Let's Be Honest, The Courage Factor, and Centering Our Souls. Godsey's most current book, Is God a Christian?, has recently been released. At the time of his retirement as president, the University enrolled more than 7,300 students, employed more than 1,300 faculty and staff, managed a budget of more than $175 million, and had an endowment of close to $200 million, with more than $200 million expected to be received in the near future from planned gifts. Dr. Godsey spoke to attendees and advised this year's recipients to follow his three "Rules of the Road":
Rule #1 - What you achieve depends on what you believe (believe in yourself).
Rule #2 - Where you go depends on what you know (trust in education and keep learning).
Rule #3 - What you can be depends on what you can see (cultivate your imagination and re-imagine yourself).
Articulate and focused, Dr. Godsey's advice were words of wisdom for any individual desiring to achieve all that can be imagined.
The Peyton Anderson Foundation's Board of Trustees consists of Ms. Juanita Jordan; Dr. Kirby Godsey; Dr. Reid Hanson, grandson of Peyton Anderson; Mr. Tom Johnson, retired CEO of CNN; and Mr. Ed Sell, partner of Sell & Melton, L.L.P. Attorneys at Law.
The Peyton Anderson Scholarship Committee consists of Ms. Sharon Patterson, Committee Chair and retired Superintendent, Bibb County Public Schools; Dr. Chris Grant, Mercer University; Mr. Melvin Kruger, CEO, L.E. Schwartz & Son; Ms. Theresa Robinson, External Manager, Georgia Power; and Ms. Jo Wilbanks, retired Vice President, Georgia Power.
This year's recipients were presented with their awards by Ms. Jordan and Dr. Godsey. "One of the things that Peyton Anderson wanted was to invest in his community," said Jordan. "He wanted to give back. These students will have given back 80 hours each in community service after four years in college."
Seated (L to R): Rebecca Harris, Galen Hughes, Laney Joiner, Karissa Roberts, Rachel Cabell, Alyson Wells
Middle Row (L to R): Melanie Spilman, Courtney Meeks, Candace Cosnahan, Jasmine King, Caitlyn DuCharme, Alisha Hightower, Anna Idenden
Back Row (L to R): Dr. Kirby Godsey (Trustee, The Peyton Anderson Foundation), Krystal Gongora, Michael Atkinson, Christopher Drummond, Stewart Bowers, Devin Lavender, Brandon Parham, Juanita T. Jordan (President, Trustee, The Peyton Anderson Foundation)
 Three Scholars were not pictured: Thelron Pleas, Sophia Green and Tashe' Jones