More than 50 students and their proud parents streamed into the Buck Melton Community Center in Macon on Nov. 30 to pick up laptop computers. They are all enrolled in a free Internet-based math tutoring program offered by Achieve HighPoints.
"All of these students are well on their way to improving their math scores because our free, innovative tutoring program has a solid track record of helping struggling students achieve success," said Dontia White, Achieve HighPoints franchise owner. "Our students will use these laptop computers for the duration of this program."
Before receiving a laptop, Achieve HighPoints students must complete 15 hours of online math tutoring. As an incentive, the company unlocks the laptop after 30 hours of tutoring, allowing the students to access other websites that could contribute to their educational success.
Achieve HighPoints, a state and federal government approved supplemental educational services program, offers state-of-the-art online math tutoring services that has received high praise. The service is free to any student who attends a school that failed to meet Adequate Yearly Progress (AYP) two year or more under the No Child Left Behind Act.
Students receiving free or reduced price lunch, attending Westside High School, Southwest High School, Rutland High School, Northeast High School, King-Danforth Elementary, Riley Elementary, Hartley Elementary, Ingram Pye Elementary,  Hutchings Career Center,  Howard High School, Central High, Bruce Elementary, Appling Middle School or Bloomfield Middle School are eligible for free tutoring.
"Achieve HighPoints offers a tailored tutoring experience," White stated. "It first assesses each student's strengths and weaknesses and then builds a customized learning plan."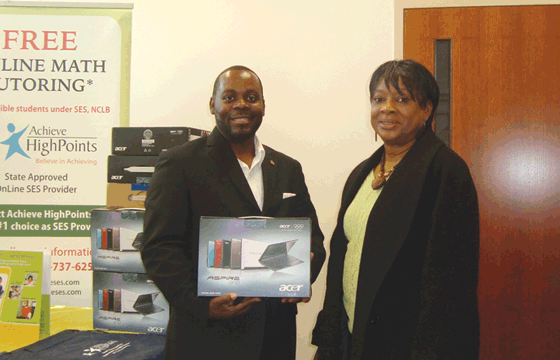 He explained further that students often have gaps in their math education that makes learning new math skills difficult. To address that problem, Achieve HighPoints applies an ongoing learning and remediation process as the student progresses through the program. Completion brings each student up to speed in all areas they are expected to know for their grade level, based on state requirements.
Karen Dunlop, the parent of a Crisp County 8th grader, said Achieve HighPoints helped her daughter improve her grades. "This was our first online tutorial experience," said Dunlop. "It proved to be a wonderful, new method that was flexible with time and location."
A Baldwin County parent said her daughter felt discouraged before she first started the program but soon began to improve her grades with motivation and personal assistance from Achieve HighPoints. Rasheda Reeves added: "Achieve HighPoints has been very professional and very attentive to our interests and needs."
A longtime community activist, White seeks partnerships with churches and youth centers in Macon's neighborhoods to help by accommodating these struggling students in their computer labs until they have earned a laptop of their own. "These computer labs will be a win-win for the families, schools and our city," said White.
To receive free tutoring with a laptop computer, parents/students must first complete an SES application with their school's Family Engagement facilitator or register at the Bibb County School District office on Mulberry Street.  Achieve HighPoints will contact all students approved to receive free tutoring. After completing the first 15 hours of online tutoring, each student will earn a laptop.
To learn more, parents and school district authorities could visit Achieve Highpoint's website, www.Achieveses.com or call Dontia White at 478-405-6060.
(bottom left) Security Officer Thomas Benson, Sergeant Andrael Jones, Lieutenant Daniel Diamond, Security Officer Charles Davis, Officer Kelvin Nixon. (Seated from left) Officer Kimberly Harper, Sergeant Taniece Harris, Security Officer Michelle Baker and Security Officer Jermaine Foster.