Tom Ellington

Wesleyan College Political Science professor and former Macon City Council member Tom Ellington has enjoyed a very interesting sabbatical since December of last year that included walking across the country of Spain and teaching at a women's university in Korea.
Following the last Macon City Council meeting in December of 2013, Ellington made preparations to begin his journey. "Korean universities start their spring semester later than most American institutions, so I had some time on my hands between the end of my duties in Macon and the beginning of classes at Ewha Womans University," he said. "In December, I moved out of my apartment and put all of my belongings in storage, then left for Europe to hike the Camino, carrying less than 20 pounds: whatever I could fit in one backpack, plus a pair of trekking poles." The Camino de Santiago (the Way of St. James) is a network of ancient pilgrimage routes stretching across Europe and coming together at the tomb of St. James in a cathedral in Santiago de Compostela, in northwest Spain. Pilgrims have been walking these routes for more than 1,000 years; Ellington completed his pilgrimage in a little more than a month.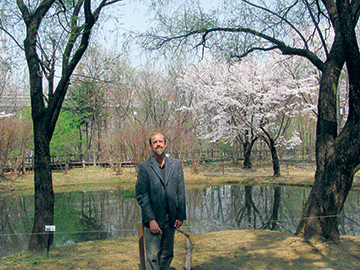 Yeouido park with the cherry blossoms
"I walked through all kinds of weather: rain, snow and occasionally even sunshine," said Ellington. "The trail took me up mountains, across the vast, flat Meseta and through cities, starting with Pamplona just before Christmas. Some days I walked alone, but often fellow peregrines (pilgrims) joined me on the trail for a few minutes or a few hours. In turn, I was glad for the companionship and glad for the solitude."
Ellington typically stayed in pilgrim hostels where a space was provided to roll out a sleeping bag and make use of basic washing facilities, usually for about 10 euros a night. "I managed to find someplace to sleep every night, although there were a couple of times where I nearly did not," he said. "I did a lot of laundry, lots of times in sinks or bathtubs. I had to, carrying as little as I was, and I came to have a deep appreciation for modern washing machines and dryers."
Yellow ribbons for victims of the Sewol cover a tree at Woljeongsa Temple
Since the end of February, Ellington has been residing in Seoul, Korea, where he lectures at Ewha University as a Fulbright senior scholar. He teaches a course on modern democracy and is doing research and some writing. "I also am trying to learn as much of the Korean language as I can, although I am progressing slowly on that front," he said. "Fortunately, I can read the Hangul script, but my vocabulary and grammatical knowledge are still extremely limited - I have found strangers to be very patient with a foreigner who is doing his best with an unfamiliar language. I should also point out that the food here is amazing."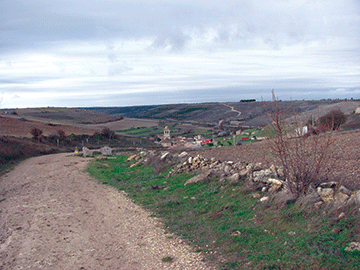 The camino passing through the Meseta
Ellington has found it to be an interesting time to be in Korea. "Spring brought the normal tensions with the North, which test fired a couple of missiles and has threatened a new nuclear test (which may still happen)," he said. "At the end of March there was also an exchange of artillery fire over the Northern Limit Line, roughly 40 miles from where I'm staying." Ellington has found these events more strange than threatening, though he admits that in the event of an actual war, "Seoul could rapidly become a very unpleasant place, but it's not something I worry about a great deal. The regime in Pyongyang is irresponsible, but it's not suicidal."
Most of the world is familiar with the sinking of the Sewol ferry in South Korea on April 16th, a disaster that claimed the lives of 284 people, most of which were students on a field trip. "Since the sinking of the Sewol, it has been a very sad time to be in Korea," said Ellington. "Yellow ribbons have come to be a common sight, and even a month later concerts and other events continue to be cancelled in deference to the mourners," he continued. "A lot of people are also understandably angry, as this tragedy has spotlighted some egregious corruption and problems with the government's disaster response."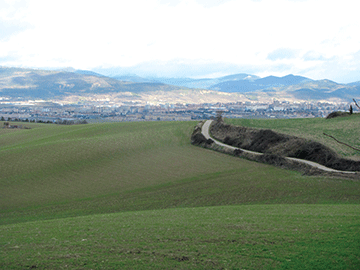 On the way out of Pamplona
Ellington is grateful for the months that he has spent abroad. "I am acutely conscious of how fortunate I am to have been able to see the places I have seen under the circumstances in which I have seen them," he said. "All that being said, I will also be glad to be back in Macon, Georgia in July. It will be a joy to once again have my closest friends and loved ones down the block instead of 13 time zones away. It will be good to be home."