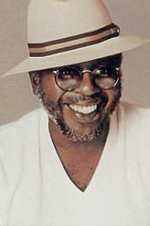 William "Smokey" Robinson and Curtis Mayfield
The names Smokey Robinson and Curtis Mayfield exemplify greatness in music. They are two legendary artist of their genres. Both arrived on the music scene as members of groups; Robinson of The Matadors then The Miracles and Mayfield of The Roosters and later The Impressions. They both started their careers in the late 50's.
Many would agree that it would be difficult to put one on top of the other, but if you had to choose one as best, which would it be?
"That is a tough one," Local Atlanta DJ, DJ Freeze says as he ponders his decision. "I'm a fan of both of them! Curtis had a more edgy and political thing while Smokey was killing it for the ladies." He goes on to say, "It depends on what type of mood I'm in. If I'm trying to romance my lady, I would go for Smokey all day. But otherwise, I could play Curtis out with my friends even today! I would still pump 'Pusherman,' and 'Freddie's Dead' out with my homeboys."
Both artist left imprints in different areas of music. Smokey was one of the founding members of Motown where he sat as Vice President for many years. It was he that suggested to his friend, a young Berry Gordy Jr to start his own label after feeling like he was underpaid in royalties for his work with Jackie Wilson. His group was the first act signed to Motown and they produced the labels very first hit with "Got a Job," and first million seller with "Shop Around."
"Curtis left an imprint in an area that Smokey didn't touch; movie soundtracks," Big George, Director of Operations of Love103.7 explains. Mayfield wrote and produced many soundtracks for others such as "Sparkle," where his biggest hit was Aretha Franklin's "Giving Him Something He Can Feel." He also produced, "Claudine," where Gladys Knight and the Pips performed his works. He did the soundtrack for the movie "Let's Do it Again" as well which spawned the big hit song for the Staple Singers under the same name. Curtis then produced and performed himself on the million seller, "Superfly," which spawned the hits "Freddie's Dead" and "Pusherman."
"It's tough to pick one of the two," George adds. "I would probably give Smokey the edge only because he's still living and still putting out music." Smokey has released several albums over the last 10-15 years. Though he hasn't had any big hits he has released music that got airplay on R&B and Adult Contemporary radio stations.
In his hey day though, Smokey wrote and produced many of Motown's top sellers. He penned hits such as "My Girl," "The Way You Do the Things You Do," "Since I Lost My Baby," and "Get Ready," for the Temptations, "You Beat Me To The Punch," and "My Guy" for Mary Wells, "Who's Loving You," for The Jackson 5, and "I'll Be Doggone," and "Ain't That Peculiar" for Marvin Gaye. He did these as well as produce several hits for himself as a solo artist and for his group, The Miracles.
But he didn't play his own music.
"That's a huge factor you have to key in" adds Bryson Phillips of Jersey City, New Jersey, "Curtis played lots of his own music. He could play the bass guitar like none other. A lot of his records could stand alone with the music by itself." Mayfield played guitar, bass, drums, saxophone and piano. "Smokey was a phenomenal producer, but I don't think he played his own music."
"That's a tough one," Mike Roberts, president of Roberts Communications Incorporated, one of the nations largest African American owned radio broadcasting companies, explains. "You can't really put one on top of the other. Smokey had more crossover success, but Curtis wrote on more social issues; he made music that made you think."
Curtis released many songs during the Civil Rights era that were about the movement like, "Keep on Pushing," and "People Get Ready." He also released songs to push black pride like, "This is My Country," "We the People that are Darker than Blue," "Beautiful Brother of Mine," and "Miss Black America."
Meanwhile, Smokey crossed over to white audiences more. Many of his biggest hits were covered by groups like The Beatles, who recorded, "You Really Got a Hold on Me," and the Rolling Stones, who recorded, "Going to a Go-Go." In an interview during the 70's when music icon Bob Dylan was asked his favorite poets, he answered, "Smokey Robinson." In 1987, UK rave group ABC released a tribute to Smokey entitled, "When Smokey Sings," Which was a hit globally and went to number one on the US Dance charts. It was on the charts at the same time Smokey had released his hit Grammy winning album, "One Heartbeat," making it the only time in history that an artist was the subject of a song while simultaneously having his own top ten hit on the charts.
When Rollingstone Magazine recently published their top 100 artist of all time, they put Curtis Mayfield at #98 while Smokey Robinson was #32. Both artists were inducted into the Rock and Roll Hall of Fame both with their respective groups and as solo artists. Mayfield didn't have many hits in the 80's and 90's. He put out several albums but only charted in 1995 with "New World Order." He had become parylized from neck down after a stage light fell on him during a performance in Brooklyn, New York in 1990.
Smokey had huge hits in the 80's with "Cruisin'," "Being With You," "Just to See Her," "Ebony Eyes," with Rick James and "One Heartbeat." In 2009 he released, "Times Flies When You're Having Fun" on his own independent Robso Records.
Curtis Mayfield died in December 1999. His health had steadily declined since his paralysis.
Both men were true gifts of talent. They both have gone down in history as legendary artist and producers of their fields. "It's not fair to put them against each other," Roberts continues. "I just can't pick either/or. They both were truly great talents!"
© Copyright 2006-2012 by The Informer, Inc.
P.O. Box 564, Macon, • GA 31201 * Ofc:  (478) 745-7265   *  Email:  gainformer@yahoo.com