Full Force in the 80's
Mention the name Full Force and more than likely those that remember them will immediately think of these muscle-bound Brooklyn dudes that wore Jheri Curls and acted a little in a few rap movies throughout the late 80's and early 90's. Yet, the six member band, made up of three brothers, the Georges, Bowlegged Lou, Paul Anthony and B-Fine along with their cousins Shy Shy, Curttt and Baby Gerry have been laying it down on the big screen, in the studio and in the production room for most of their 30 year careers. They are a tight knit band that started as a family unit and to this day, although three live in Pennsylvania and the other three live in Florida, are as close as ever.
"We've always shared the concept, all for one and one for all," Lou explains. "So even when I wrote a song like 'Thanks for My Child,' for Cheryll Pepsi Riley, we cut that check six ways."
The guys have written and produced many classics throughout the last three decades. Their hits started when Brian (B-Fine) came up with the concept for UTFO's 'Roxanne, Roxanne' in the mid 80's. They continued with writing and producing monster hits for Lisa Lisa and Cult Jam, Karyn White, James Brown, Ex Girlfriend, Cheryll Pepsi Riley and a host of others.
Full Force Today
The guys have tons of gold, platinum, and multi-platinum albums to their credit. In fact, they even have two diamond plaques. (An album goes diamond when there are 10 million units sold in the U.S. alone). They received those for their work on N'Sync and The Backstreet Boys records. Both are groups that Full Force made their biggest comeback on. They came to them in the mid-90's, when much of their music and movies had slowed down.
Television network TV One has an excellent program that comes on Mondays called, "Unsung." Full Force's debut on the program was January 30, 2012. It is "my favorite television show of all time!" Lou exclaims. He warns though that a lot of the artists featured on the documentary program have had sad endings. He says, "there are no sad endings here."
In January, a premier and prescreening for the show was held in Atlanta. Celebrities and fellow hip hop heads such as Kangol Kid from UTFO, Kool DJ Red Alert, Whodini's Grandmaster Dee and Tommy Ford were in attendance.
The George brothers left to right Paul Anthony, Informer publisher Kenney Dennard, B-Fine and Bowlegged Lou at Unsung Premier in Atlanta
The band has had their share of ups and downs through the years. Paul Anthony was diagnosed with Cancer in 2006 and told by one doctor that the lifespan after diagnosis is usually only two years. Paul is a living testimony. The disease is in total remission, and he has continued to work out and keep a buff body as always.
He says his immediate response after getting the word was, "Well Doc, let's Go! You better get to work on me because I can write a whole lot of hit songs in 2 years!"
Paul also exclaims that when he was in the hospital after getting his dosage of Chemo, he would continue to work out soon after before he was too weak, maintaining a healthy body, mind and spirit. He says his loving brother Lou was by his side at each and every chemo dose.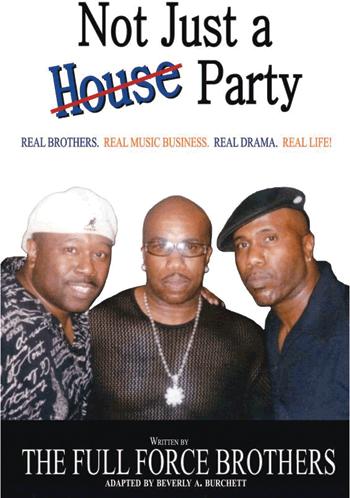 Full Force book
The brothers have written a book that was recently published called, "Not Just a House Party." It is available through their website, FullForceWorld.com as well as Amazon, barnesandnoble.com and BlackCurrantPress.com. The book details many of the highs and lows as well as funny stories throughout their lives and careers.
The members of Full Force are legends in black music. Their works will last for many lifetimes. The Jheri Curls have been gone for decades, but these muscle-bound Brooklyn dudes are still together writing, producing and performing; still making history, and as they used to shout, "Still getting busy one time!"
© Copyright 2011 by The Informer, Inc.
P.O. Box 564, Macon, • GA 31201 * Ofc:  (478) 745-7265   *  Email:  gainformer@yahoo.com