by Kenney X. Dennard
Johnny Gill Chats with Informer About his new Album, "Game Changer."
Rather you refer to him as Johnny, JG, J Skillz or his new nickname, The Official President of R&B, you must give Johnny Gill the respect he has earned and deserves. Thirty years is a long time to consistantly do
anything well. Gill has been active in the entertainment industry for nearly 32 years. On December 9, he released his 7th studio album, "Game Changer." I was honored to talk to him about that among other things for
this month's Informer.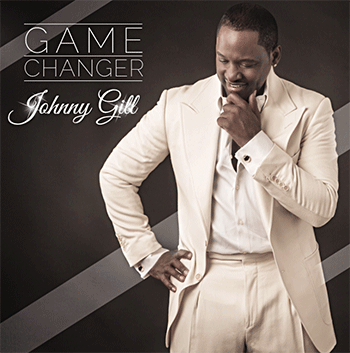 Kenney
JG! How you doing man?
Johnny
Hanging in there! Working like a slave!
Kenney
I see! You know as I was preparing for this interview, I was amazed! I had forgotten the amount of work you put into the music industry.
Johnny
How you forget about me? (laughter) Yeah, everybody be forgetting about Ole Johnny.
Kenney
I see you've recently started your own lable, "J Skillz."
Johnny
Yeah, you know that's my nickname. A lot of people call me that. Or just Skillz. Everyone ask where that comes from. It's because I do so much and play so many things.
Kenney
Do you have any other artists signed to the label yet?
Johnny
No. I just got started so I'm looking. I definitely want to get some more great artists out and provide the opportunity to get their music out there.
Kenney
Is this something you always wanted to do or is it something that you just fell into?
Johnny
It was really something I just fell into. I mean, I've always been very hands on when it comes to handling my business. So having the opportunity to put out my own music and do what needs to be done... I can't begin to tell you how incredible it is and what a blessing it has been to be able to do that after 31 years. I never would have thought... But here I am 31 years later and in control of when and how I want to get my music out to the world.
Kenney
That's exactly what I was thinking. It must be a sense of relief and freedom to do things when and how you want.
Johnny
Absolutely.
Kenney
First of all, you have a unique schedule to fit all that you do. Let me tell you, I go to at least 2 New Edition concerts a year.
Johnny
Exactly. So you can only imagine what it's like. And I'm like nonstop. If it's not New Edition, it's LSG, if not that I'm by myself or with Heads of State. I'm just the hardest workingman in show business. They don't want to give it up yet, but I am.
Kenney
Tell me about the new album...
Johnny
"Game Changer" is an album of great, great songs. It's for grown folk but there is something on here for everybody. Butmost importantly, it's great music. You know, when you've been in the game a long time you're considered old school and rather than getting celebrated, you know, they penalize you for it. I felt like being able to do what I do, and I'm capable of doing it better than some of the artists out there, nothing against them, but there is still an audience out there that enjoy and deserve great quality music, coming from people that have been out there many years and can still do it. So I took the initiative to create my own label and do it myself.
Kenney
Especially nowadays there are artists that can really blowbut because of current trends and what's hot on the radio they barely sing. Instead, they kind of fiddle around and put out what is currently trending on the radio.
Johnny
You have to stay in your lane though and do what you do. Somebody has to fight for great music though. I mean, I can only speak for what works for me and what I enjoy but I find that there are many fans that love and appreciate the same type of music who are not being serviced. So If I have to be the voice and I have to stand up and go against the grain, so be it. I'll be thewarrior.
Kenney
Do you get into the production at all?
Johnny
Oh yeah, everything hands down from beginning to end. I'm into everything that goes into the songs chosen as far as collaborating and writing.
Kenney
Speaking of collaborating, I was glad to see you did some work with Babyface again on this album.
Johnny
Oh yeah! It was awesome getting back in the studio with him again. Like old times. Then there's the one with New Edition, "This One's For You and Me." It's a great song that I think we nailed and it had been awhile since we had recorded together; since 2004. It's just an all around good album. One thing about the CD, you put it in and just press play and you're good.
Kenney
I have to agree. I had already heard and loved the first single, "Behind Closed Doors," then I watched the video earlier and was like, "Whoa!" Kinda caught me off guard with the surprise ending.
Johnny
(Laughter) Bad Johnny! Bad Johnny! (Sarcastically) It happens...
Kenney
And of course I loved the song with N.E., which leadsme to ask, any plans for a new album?
Johnny
At some point. I think it's well over due. We just have to get the scheduling down and get it done. It's something we're definitely gonna do.
Kenney
How about touring? Any concert dates?
Johnny
Well I'm at S.O.B.'s tonight in NY doing a couple songs and we're looking at trying to get this tour ready to go somewhere at the top of the year.
Kenney
Anything set for Georgia?
Johnny
I'll be in Atlanta on February 8th I believe. At the Fox Theater with El DeBarge and Eric Benet. So it's two light skinned brothers against one chocolate man. (laughter) That's how it is going down. It takes two of them! And they still can't handle it! (laughter) Seriously though, they're my friends. I always jokewith them.
Kenney
Now after hearing the live extended version of "My, My, My," in which you totally killed, and added bars of Teddy Pendergrass's "Love TKO," I'm led to believe he was an influence. What other artists influenced your career?
Johnny
Definitely Teddy. But also Stevie. Of course Luther, Jeffery Osborne,Peabo Bryson... The list goes on.
Kenney
Mr. Skillz, what instruments do you play?
Johnny
lead guitar, bass, drums, keyboards... Pretty much anything I get my hands on. I'll figure it out.You know, my new title in the biz is "The Official President of R&B!" The Prez! That's what they call me. (laughter)
Kenney
OK! I'm going to put that as the subtitle under your name! (laughter)
Alright Mr. Skillz I definitely thank you for taking the time out of your busy schedule to chat with The Informer. Congrats on the new album and label and I wish you continued success!
Johnny
Thank you so much! I appreciate that! God bless you and your readers.
© Copyright 2014 by The Informer, Inc.
P.O. Box 564, Macon, • GA 31201 * Ofc:  478-745-7265   *  Email: gainformer@yahoo.com