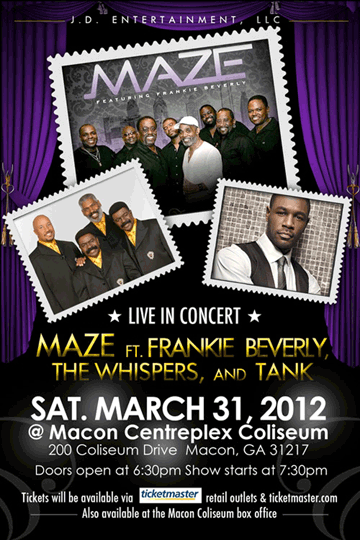 Maze featuring Frankie Beverly has been creating original, soulful music for over 30 years! Maze released their debut album in 1976 and included hit songs "Lady of Magic" and "Workin' Together." But it was in 1983 that Maze and Frankie Beverly solidified their place in the music world. Their album We Are One contained huge hits "Love is the Key" and "Never Let You Down." Any music fan should experience the smooth vocal talents of Frankie Beverly and the funky, contemporary sounds of the band.
Accompanying them will be one of R&B music's most beloved and consistently popular vocal groups, The Whispers, began their legendary and timeless career in 1963. Twin brothers Walter and Wallace Scott joined with friends Nicholas Caldwell, Marcus Hutson, and Gordy Harmon to form a local singing group. They perfected their tight harmonies on the street corners in the Watts section of Los Angeles and in nightclubs in the in the San Francisco/Oakland Bay Area.
And you cannot forget about Tank, who is one of the most recognizable names in modern R&B, known for vivid storytelling and sensual love songs. He's an icon in the making, with four albums and eight Grammy nominations under his belt. He's also a singer who carries the torch of masters like Marvin Gaye and Al Green, while redefining R&B for a new decade. For singer/songwriter/producer Tank--about to release his Atlantic Records debut Now or Never, his first album in three years, and the one he describes as his most confident yet--the secret is simple. He remains true to who he is, as a man and an artist.
This event will take place Saturday, March 31, 2011 at 7:30pm. Tickets on sale now! Ticket Prices: $40.50, $50.50, $60.50 & $72.50.
© Copyright 2012 by The Informer, Inc.
P.O. Box 564, Macon, • GA 31201 * Ofc:  (478) 745-7265   *  Email:  gainformer@yahoo.com