Attending the Essence Festival is one of those bucket list entertainment vacations that every African American should take. Although the 4th of July weekend is normally celebrated with cookouts, fireworks, and fun, making the pilgrimage to New Orleans during the first weekend in July is a great new way to celebrate Independence Day. Every year, more and more African Americans from all walks of life travel to New Orleans to celebrate our culture and to be entertained.
Charlie Wilson agrees, "The Essence Festival is like family. It is about combining seminars, and workshops with concerts, and I think it is a great idea."
Beyonce
At this year's 19th annual Essence Festival, over 540,000 people celebrated the Fourth of July weekend in the Big Easy, making this the largest ever Essence Festival. There were more than 50 artists with performances from Beyonce, Maxwell, New Edition, Charlie Wilson, Brandy, Jill Scott, LL Cool J, Tamia, Big Daddy Kane, Faith Evans, Trey Songz, Keyshia Cole, and many others. These shows took place in the Mercedes Benz Superdome on the mainstage which seated thousands; there were concurrent shows going on three different super lounges which held about 200 people as well.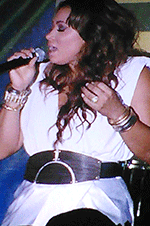 Tamia

"The Essence Festival has grown to represent the tremendous joy and optimism that is present in the African American community" said Essence Communications President Michelle Ebanks. "We celebrate our community of Essence readers at the Essence Festival-where we come together to connect to our culture and our community-and to be renewed, inspired and transformed."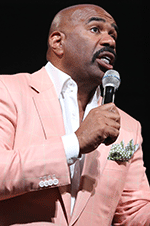 Steve Harvey
There were plenty of opportunities for participants to be inspired and transformed because during the day, the festival offered empowerment forums and speakers at the Ernest N. Morial Convention Center. There were more than 120 speakers during the four day Essence Empowerment Experience. These events attracted more than 100,000 people each day with empowerment appearances by Steve Harvey, Rev. Al Sharpton, Iyanla Vanzant, Rep. John Lewis, Myrlie Evers-Williams, Soledad O'Brien, and many more. A few of these panels, presentations, and keynote addresses are as follows: There was a live, standing room only set of Family Feud. There was a discussion on education featuring Dr. Steve Perry and Dr. Michael Lomax. Rev. Al Sharpton moderated the Icons of the Civil Rights Movement panel featuring Congressman John Lewis, Shirley Sherrod, Congresswoman Eleanor Holmes Norton and Myrlie Evers-Williams. In addition, there was a panel featuring Newark Mayor Cory Booker and Atlanta Mayor Kasim Reed on "Ending the Gun Violence in our Cities."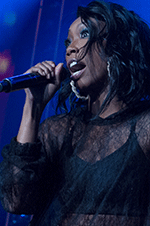 Brandy
On Friday night, the festival was started right with shows on the mainstage by Brandy, LL Cool J, Jill Scott, and Maxwell. Brandy took the fans back as she sang songs from her past albums. She especially touched the audience when she sang a tribute for her friend, the late Whitney Houston. Her hour long performance was followed by LL Cool J who rocked the house. He performed hits such as "Rock the Bells," "Round the Way Girl," "Radio," "I'm Bad," "Going Back to Cali," and "I Need Love." As a woman threw a pair of large briefs on the stage, it was obvious that he is still viewed as a sex symbol. LL had a lot of fun with the audience members, inviting women on the stage to dance as "Brickhouse" played in the background.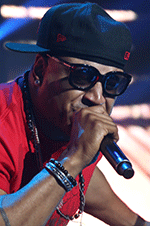 LL Cool J

Excited about his performance, LL Cool J said, "I love just having the opportunity to perform for my people on one of the greatest platforms out there, the Essence Festival. I know it's been years since lots of these people have seen me perform and it's always fun to share the gift and share the talent and do what I do. This is what I love to do and this is my first love no matter what I do as far as acting and Hollywood and hosting and all of those other things. This is my first love and I love to show people my first love and what I do. It's just an amazing feeling."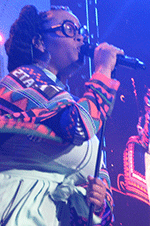 Jill Scott
Jill Scott followed LL Cool J with a soulful performance. She sang hits like "So in Love," "Whateva," "Golden," and "Hate on Me." She was dressed in a light blue pantsuit, a geometric, flowing, colorful shawl, and some very intricate boots. Plenty of detail and attention had been given to her hair which was beautifully cornrowed. However, when she opened her mouth to sing, fans discovered that Ms. Scott truly is "living life like it's golden" because she was sporting a gold grill on her lower teeth.
Ms. Scott responded, "Grills, the gold grills, the diamond grills are part of fashion. Fashion is about enjoying yourself and being comfortable in your skin and allowing you to be you all the way live. I'm going to keep playing with it because it is a lot of fun."
Friday night was culminated with a performance by heartthrob, Maxwell. Some of the songs he sang included "Stop the World," "Fire We Make," "Sumthin, Sumthin" and "Woman's Work."
Chrisette Michele
The Essence Festival also offered many other opportunities in the superlounges. Some of the hotter acts were by Les Nubians, Mali Music, Anthony David, Chrisette Michele, and Blackstreet. When asked about Blackstreet's longevity, members had plenty to say.

Teddy Riley of Blackstreet commented, "It's about writing classics and writing music that people can keep singing today, tomorrow, and the future."
Fellow Blackstreet member David Hollister added, "We have a message in our music. As long as we keep bringing the messages and good music, I believe God is going to keep us here."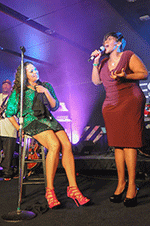 Faith Evans and Kelly Price
Saturday proved to be as action packed as Friday with five acts performed on the mainstage and twelve acts in the superlounges. Solange, Beyonce's baby sister, started the night out first on the mainstage, and had many fans wondering how she earned mainstage status with her few hits, lack of dance skills, and no stage presence. She gave a lackluster performance to a half empty building although singers like Faith Evans and Big Daddy Kane had standing room only crowds in the small superlounges.
Keyshia Cole
Her performance was followed by Keyshia Cole who belted out hit after hit, including "Shoulda Let You Go," "Love," and "Let It Go." Trey Songz was next and soon had the ladies swooning as he crooned hits like "Love Faces" and "Neighbors Know My Name."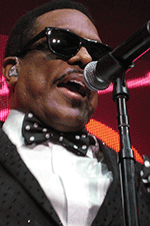 Charlie Wilson
Although the night was still young, Charlie Wilson, formerly of the Gap Band, came out dancing with dancers to the "Party Train," and showed the crowd that the old school player still had it. This recent BET Lifetime Achievement recipient explained his appeal. "I love making music and I love performing and I think that's why I'm the bridge between hip hop and everybody...from Snoop to Kanye to Jay-Z...they put me on their record cause I can still deliver."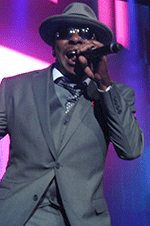 Bobby Brown
And deliver he did! Uncle Charlie sang hits from his Gap Band days like "Early in the Morning," "Burn Rubber," "Outstanding," and "You Dropped the Bomb on Me." He also gave the audience more of what they wanted by singing his newer classics like "Charlie, Last Name Wilson," "I Think I'm In Love," "There Goes My Baby," "My Love Is All I Have," and "Love, Charlie." Charlie even gave the standing crowd a little church as he praised God for delivering him from alcohol and crack cocaine, and sang the gospel tune, "If I Believe."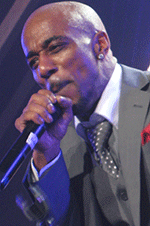 Ralph Tresvant
The audience was definitely getting their money's worth because the night was far from over. Next came Ronnie, Bobby, Ricky, Mike, Ralph, and Johnny...New Edition. New Edition began their show clad in gray suits, singing and dancing with their signature steps to "If It Isn't Love." Bobby Brown, in his David Ruffin fashion, made a grand entrance during the third song. This 30 year boy group sang classics like "Jealous Girl," "Is This The End," "Popcorn Love," "Candy Girl," and "Mr. Telephone Man." At one point, Bobby told the members he was tired and he was going to sit down. The group told him not to go. However, it was obvious that Bobby was out of shape because after a couple of songs, he did go sit out a couple of songs with the band while the other members continued to sing and dance. The New Edition show contained not only NE hits, but it also highlighted the solo careers of Ralph Tresvant, Johnny Gill, Bel Biv Devoe, and Bobby Brown. For example, Ralph Tresvant sang "My Sensitivity," Johnny Gill sang "My, My, My," Bel Biv Devoe sang "When Will I See You Smile Again" and "Poison," and after Bobby Brown had rested up, he brought down the house with "Roni" and "My Prerogative'" The crowd was on their feet, dancing and singing these lyrics throughout the entire show. New Edition finished the 90 minute set at about 1:00 a.m. with "Can You Stand the Rain."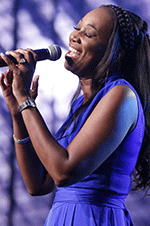 Yolanda Adams
Sunday morning proved that the Essence Festival had something for everyone. In what had to be one of the best church experiences to be had, participants got their praise on at the convention center with an all-star gospel tribute to legendary Tramaine Hawkins and Pastor Donnie McClurkin. There were performances by Michelle Williams formerly of Destiny's Child, Tasha Cobb, Kurt Carr, Yolanda Adams, Amber Bullock, Hezekiah Walker, Isaac Carree, Anthony Brown and Group TheraPy, Kim Burrell, Alexis Spight, Tramaine Hawkins and Donnie McClurkin. There was even a sermon given by Bishop Noel Jones. This event ended with an anointed duet with Tramaine Hawkins and Donnie McClurkin singing "Changed" as Kim Burrell, Michelle Williams, Isaac Carree, Amber Bullock, and Hezekiah Walker sang back up. Participants raised holy hands in praise and danced in the aisles as the spirit led them.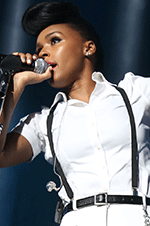 Janelle Monae
Although Sunday night has traditionally been the most poorly attended night of the festival, because of the night's main headliner, this year was the largest crowd in Essence's 19 years. In the superlounges were performances by Mia Borders, Kourtney Heart, Marsha Ambrosius, and Mint Condition. One of the best performances of the night was given by Tamia. She delivered two flawless one hour sets to a jam-packed audience while her husband, NBA Great Grant Hill, sat in a corner off from the stage watching. Tamia sang all of her hits from "Officially Missing You," "Beautiful Surprise," "Still," "Can't Go for That," to "You Put a Move On My Heart" and "Stranger in the House." It was difficult to understand why she was in the small superlounge while the rookie Janelle Monae took the mainstage at the same time, singing only a few of her own hits, and many of other artists like Prince and the Jackson 5. The audience seems unimpressed and remained seated for the entire show.
Beyonce closed out the Essence Festival with a sold out show, one of the few in the 19 years of the Festival. Although she began her show 30 minutes late, when she appeared on stage around 11:00 p.m., the audience erupted with screams and applause. She opened her show with "Run the World," and for 90 minutes, she and her all-girl band put on a show, singing hits like "Flaws and All," "If I Were a Boy," "Naughty Girl," "Irreplaceable," "Love on Top," "Crazy In Love," "Single Ladies," and "Grown Woman." In true diva fashion, she had about a half dozen costume changes between which played various film clips with her dressed as a queen. Although Beyonce and her dancers gave the audience 100%, the audience's energy level was not as high as her normally younger audiences, and most of the audience remained seated throughout many of her songs. When Beyonce began singing "Crazy in Love," the audience all stood and grooved with Bey, and she exclaimed, "It took me a while to warm you up. You're standing now. I feel good about that." She finished the show with her hit, "Halo."
Attending the Essence Festival is an educational, empowering, and entertaining experience. Although there are large crowds, there is truly a sense of family, community, and pride. The Festival weekend is jam-packed with plenty of activity from morning to the wee hours of the next morning. There is so much to do that an extra day is needed just to enjoy New Orleans. It is a trip well worth the money, and one where a vacation from the vacation is sure to be needed afterward.
© Copyright 2013 by The Informer, Inc.
P.O. Box 564, Macon, • GA 31201 * Ofc:  478-745-7265   *  Email: gainformer@yahoo.com