by Kenney Dennard

This year's Trumpet Awards festivities were held in Atlanta on January 24-26 at the Hyatt Regency and Cobb Energy Performing Arts Center. Trumpet Awards founder Xernona Clayton and her staff planned several outstanding events, starting that Thursday with a Race Relations Symposium, entitled, "Are We There Yet," a dialogue where community civil and political rights leaders examined race relations in 2013. It was open to the public.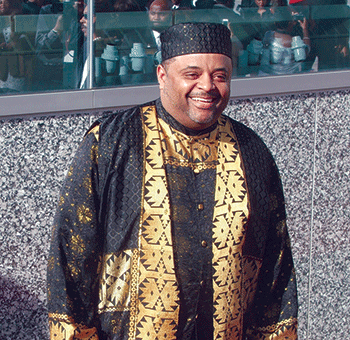 CNN Correspondant Roland Martin
On Friday Morning, a sister to sister forum was held in the Hyatt Regency Embassy Ballroom entitled, "Entrepreneurship, Empowerment and Success," where a panel of dynamic women who exemplified success shared their perspectives and strategies for achievement as entrepreneurs and professionals. BET host April Woodard, Actress Zendaya Coleman from Disney's "Shake it Up," and CEO of Johnson's Publishing Company Desiree Rogers led the panel discussions.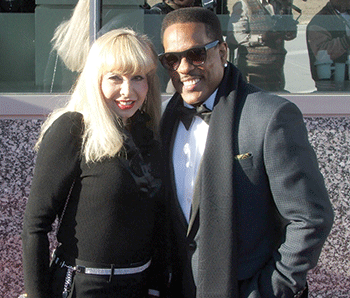 Mr. and Mrs. Charlie Wilson
On Saturday evening, January 26, the Trumpet Awards Ceremony was held at Cobb Energy Performing Arts Center. Many Celebrities, honorees and VIPs arrived early to walk the Red Carpet before entering the event. Guests from all walks of life and entertainment arrived such as Rev. Bobby Jones, Actor Carl Payne, Honoree Chaka Khan, David and Tamela Mann, and Honoree Alonzo Mourning and his wife Tracy.
Tamela Mann sang her #1 Gospel hit
This year's show was hosted by comedian Ricky Smiley and Actress Essence Akins. Performers for the night included Avant, Fantasia, Anthony Hamilton, Tamela Mann and TV One's R&B Divas. Here are a list of the honorees and their awards:
Debra Martin Chase
Entertainment Award
Chaka Khan
Legend Award
Alonzo & Tracy Mourning
Humanitarian Award
Michael McMillan
Community Service Award
Mayer Kasim Reed
Public Service Award
Edward T. Welburn, Jr.
Corporate Business Award
Charlie Wilson
Lifetime Achievement Award
Xernona Clayton and Turner Broadcasting created the annual Trumpet Awards to demonstrate total community involvement, global respect for all humanity and its commitment to diversity by heralding the accomplishments of men and women who have significantly contributed to enhancing the quality of life for all.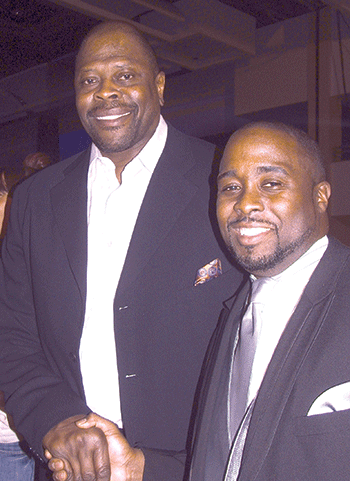 Informer Publisher Kenney Dennard meets and greets NBA Legend Patrick Ewing
There were many memorable moments for the night including, NBA legendary centers Patrick Ewing and Dikembe Mutombo presenting their fellow Georgetown Alumni Alonzo Mourning and his wife Tracy with the Humanitarian Awards. Mourning's NBA career was cut short once being diagnosed with a rare kidney condition. He had a kidney transplant with the help of his cousin who was his match. Since recovering, Mourning has gone on to work vigorously alongside his wife to help others with that same condition. They started The Mourning Foundation and have been successfully working with children in need across the country.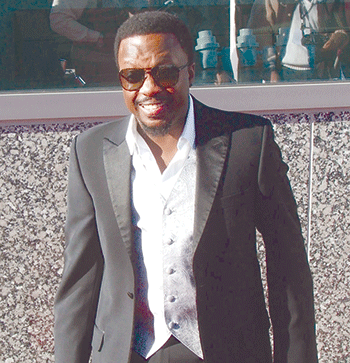 Singer Anthony Hamilton arrives to the red carpet
Charlie Wilson was choked up as he received his Lifetime Achievement Award. He explained to the audience that after a successful run in the 70's and 80's with his brothers in the group The Gap Band, he had become depressed and succumbed to crack and other drugs. He would eventually end up homeless in LA. He said that after meeting his wife, she pushed and pushed for him to pick himself up and it finally worked. He made his comeback in the late 90's and has scored several hit albums since.
Dr. Bobby Jones sports Barrock Obama jacket for Red Carpet
Wilson performed the after party at the Hyatt Regency. Midway through his performance, he stopped the funk and went into an old-school, down home gospel set where he and his band jumped around and praised God for picking him up and bringing him back from the gutter. The crowd of VIPs and dignitaries all stood up and rocked along with him. At the end of his set, Charlie would bring Mrs. Xernona Clayton to the stage and present her with a $50,000 check to do as she pleased with the Trumpet Foundation.
Much thought and preparation was put into this year's Trumpet Awards, and it was felt throughout the weekend and was once again a success.
© Copyright 2013 by The Informer, Inc.
P.O. Box 564, Macon, • GA 31201 * Ofc:  478-745-7265   *  Email: gainformer@yahoo.com