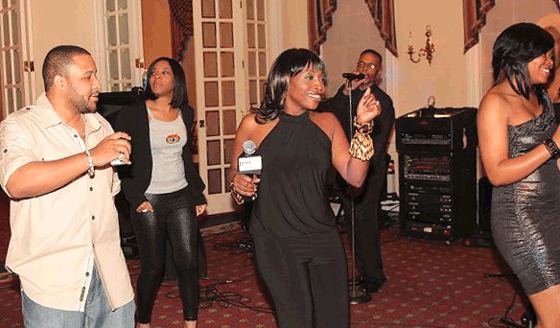 Mel Waiters had his 'Whiskey', Sir Charles Jones said 'it's Friday', and Clarence Carter was still 'Strokin'! Hardcore blues fans poured into the Auditorium for a show that promoters boasted, "Could not be bootlegged", the 4th annual Blues Festival. Sir Charles Jones announced an added attraction that sounded too good to be true. The MC repeated the news of something more next door; my ears had not deceived me. ROYCEvents & Sound was hosting their Green Room Mixer at the City Club of Macon. First, when did the City Club open to the public? Second, why didn't I think of that? This pleasant surprise was within walking distance and only required my show ticket. Nothing to contemplate there...it was on! Our group decided to check out this event that Host, Royce Foreman says, "brings you into the celebrity circle".
We made a bee line across the street to catch the pre-show Green Room Mixer that was absolutely free before and during intermission. After the show, we only needed our ticket stub and a $10 donation for this spectacular experience. As we waited to cross the street, it was evident that we were in store for an event that was on another level. No pun intended, considering their slogan is "upgrade your occasion". Instantly we were wowed by the 2nd floor balcony that was illuminated in a vibrant green hue that made Cherry Street look like a block in South Beach. The laughter and chatter of the Blazin' 92.3 FM eye candy army, the "Blazin' Babes" could be heard as they enticed passer Byers to come up and join the fun. The sidewall was glowing with a ROYCEvents logo light feature. Okay, a taste of Hollywood, Miami, New Orleans and we were not in the building yet. We were excited by the curb appeal.
After a disturbingly slow elevator ride, we reached the Green Room Mixer. The words that came to mind were ambiance, appealing and action! The doors opened to an irresistible mint candy display by Kustommade Creations followed by a "welcome" just as sweet at the Hostess desk. There were photo stations with the red carpet style backdrop, a vintage baby grand piano, vendor displays and the sounds of Old Soul Band featuring Bo Ponder singing renditions of R&B hits. The City Club's glam historic character was enhanced by Brilliant Linens tablescapes. The separate bar area entrance was bejeweled with a chandelier style curtain at the entrance and glowing centerpieces by Parties with Pizzazz. The guest enjoyed a free flowing fountain of P Diddy's Ciroc Vodka and feel good music that Royce played from her deejay station that was in the hallway. Mannequins dressed in Ti Sa J fashions and accessories struck a pose by columns that lined the hallway. We stopped in our tracks to get a taste of Kustommade Creations' key lime cake pops in the theme color -- green. We heard Royce announce, "Now serving Alexander Ballroom's Shrimp on a Bed of Lettuce", and without warning a crew of bow-tie tailored wait staff (After the Affair, LLC) canvassed the rooms with an assortment of caterings by Catered Events. They served with precision, personality and professionalism. Chocolate covered strawberries and fried ravioli were presented by special announcement that made me realize, we were experiencing something different. Royce directed us into the Magnolia Room to view a concert video that spanned the area of one wall. Then there were fireworks! The Old Soul band finale was signaled by a parade of Blazin' Babes with bottles of Moscato and flaming sparklers. Guest danced, sang happy birthday to twins Rivers and Robert Foreman, gushed over the Jell-O-o shot syringes and posed for pictures by Michael Martin First Impression Photography. He was a stranger to none as he inspired instant photo shoots all over the room. Thoroughly entertained, we said our farewells and made our way back over to the concert, all the while anticipating our return after the show. The Focal Blu video team made the short walk with us to the Auditorium for their interview with Clarence Carter. They promised us that a video of the Green Room Mixer event would air soon on the ROLLING with ROYCE web show. It was definitely a fantastic voyage, and if "shawty is a 10"; the ROYCEvents Green Room Mixer is a "20".
For information about the upcoming MAZE ft. Frankie Beverly, the Whispers & Tank Green Room Mixer, visit www.roycevents.com or "LIKE" ROYCEvents on face book.
© Copyright 2011 by The Informer, Inc.
P.O. Box 564, Macon, • GA 31201 * Ofc:  (478) 745-7265   *  Email:  gainformer@yahoo.com