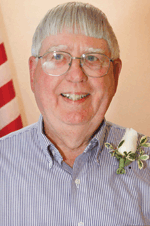 Judy Banks and Ray Wilkes
Judy Banks, Coliseum Northside Hospital employee, and Ray Wilkes, Coliseum Medical Center volunteer, were recently awarded Coliseum Health System's 2010 Frist Humanitarian Awards.
The Frist Humanitarian Awards were created to recognize one employee and one volunteer at each HCA-affiliated facility who demonstrate extraordinary concern for the welfare and happiness of patients and their community. The Frist Humanitarian Awards are given annually in recognition of the humanitarian spirit and philanthropic work of the late Dr. Thomas F. Frist, Sr., a founder of HCA.
The employee recipient of 2010 Frist Humanitarian Award, Judy Banks, manages the Volunteer Department and the H2U Program at Coliseum Northside Hospital, where she has worked for 18 years. She has successfully orchestrated a Student Education Scholarship that awards many high school students scholarships each year from the proceeds of the volunteer gift shop and merchandise sales throughout the year. She was an instrumental part of the building and decorating of the chapel on campus, and she continues to serve as the liaison for the Chaplain program at the hospital. Mrs. Banks has served on the GHA/GSDVS as a board member and officer since 1993, and in 2005-2006 she was awarded the prestigious "Wyn Award' for outstanding contributions to the state society and volunteerism. She consistently demonstrates a high level of self sacrifice for patients, co-workers and others in the community; her peers say "she is loyal and dedicated -- a remarkable person, who is well liked by all employees."
Volunteer recipient of the 2010 Frist Humanitarian Award, Ray Wilkes, volunteers every week at Coliseum Medical Centers, and has been faithful to this volunteer effort for years. He visits patients, returns calls, works in the volunteer office as well as the H2U program, and provides support for many programs at the hospital. In his many nominations, it was written that he is responsible, dependable, helpful, and friendly. Mr. Wilkes is also known for being humble and kind, always patient, rational and calm -- qualities that are certainly desired in a volunteer who is working with patients, their families and other hospital customers.

Judy Banks and Ray Wilkes are an inspiration to all of our employees and volunteers, and their generosity and dedication serve as a living example of HCA's commitment to the care and improvement of human life.