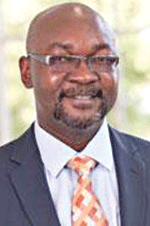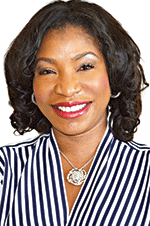 Dr. Emeka Umerah and Dr. Anayo Umerah
by Clarence Thomas, Jr.

Doctors Anayo and Nnaemeka Umerah REALLY like being together. So much so, the husband and wife team decided five years ago to be together all day. Creating the Women's Health Care Institute of Macon was the way they could and much to their delight and that of their customers.
With two locations in Macon on Riverside Drive and another in Warner Robins, the practice specializes in aesthetics and gynecological care. The line of demarcation however is the environment in which women receive care according to the Umerahs. A tour of the Macon location in person or on line supports their claims. The state of the art multi-level building exudes modern day medical practice. High ceilings and windows; pastel and earth tone colored office fixtures; ornate furnishings, spacious seating arrangements and natural lighting create a place of peace. "Women are beautiful creatures and deserve the best. I wanted to produce what I want to see at my doctor's office," says Mrs. Umerah. "Healing is not just medicine or a prescription. A patient is healed most of the time by the environment they come in," added Mr. Umerah.
Although the building is impressive and designed to be a sanctuary, customers well-being is the priority insist both. Those receiving care are in good hands. Mrs. Umerah is a Board Certified Family Physician and Fellow of the American Academy of Anti-Aging & Aesthetic Medicine handling making and keeping people, including some men, beautiful. Mr. Umerah is OBGYN Board Certified and a Fellow of the American Society of Cosmetic Surgery responsible for maintaining the health of Middle Georgia women. Aesthetic specialties include fat transfers, laser surgery and tummy tucks. Mrs. Umerah says aesthetics is not just vanity anymore, but health related also. She believes women coming in now are looking for cosmetic alterations to boost their confidence and self -esteem. Success stories include a woman in her sixties that became more social, lost weight and hooked up with a steady boyfriend. "When you look good, you feel good," Mrs. Umerah stated.
Two other satisfied customers include Gennie Barrisaw McClinton of Macon. She has been seeing both doctors for three years now. She said she was looking for a practice prior to deciding on the Umerahs that wouldn't treat her like an insurance payment, but like an appreciated and respected customer. "Going there gives you an inviting and comfortable feeling. I'm just overjoyed to have found this place. It's not like going to a regular doctor. They provide total care," said McClinton. Tina Kay Walker of Warner Robins agrees. The forty-six year old mom started out with the practice in 2010. She raved about Mrs. Umerah as much she did about her aesthetic and hormone treatments. "Her knowledge really distinguishes her along with her bedside manner compared to other doctors. She's an excellent doctor that deserves recognition." The Umerahs are grateful for this kind of feedback. They use it as proof that they were right in establishing the business and admit that God's guidance then and now is what makes them successful. "My wife and I believe this is a good thing that God put together," Mr. Umerah expressed. "We don't just connect with our patients medically and cosmetically but with them spiritually," stated Mrs. Umerah.
To keep Women's Health Institute of Macon running smoothly on behalf of the practice's 5,000 plus customers, a staff of over thirty medical assistants, technicians and nurse practitioners is available in addition to the Umerahs, and one other gynecological surgeon. While keeping the business viable and true to why it was created originally when they were working separately in two other facilities, the pair says Women's Health Institute of Macon mirrors their marriage. A chance meeting in the United States by two native Nigerians studying and practicing medicine while residing in Pennsylvania at the time, they now recognize - like their business - was ordered by the Lord according to them. "I'm very lucky I'm doing this with my best friend," Mr. Umerah said. Ended Mrs. Umerah, "We are in Macon for a special reason. Patients are not just coming here. We care for and about them. What they get is for them and them alone."
To find out more about Women's Health Institute of Macon call 478-254-6069 or 478-746-2888. Additional information about the business can also be found at www.womenshealthmacon.com.
© Copyright 2015 by The Informer, Inc.
P.O. Box 564, Macon, • GA 31201 * Ofc:  478-745-7265 * Email: gainformer@yahoo.com