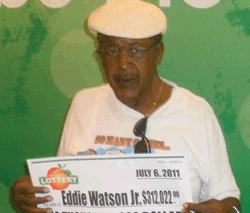 Georgia Lottery winner Eddie Watson Jr. of Atlanta won a combined $312,022 playing Fantasy 5. He won the jackpot prize from the July 4 drawing.
An Atlanta man's birthday has led to a $312,014 Fantasy 5 win on Independence Day. Eddie Watson Jr. matched all five winning numbers in the July 4 drawing, winning the jackpot prize.
Shell Food Mart, 356 Moreland Ave. S.E. in Atlanta, sold the ticket.
Winning numbers from the July 4 Fantasy 5 drawing were: 1-7-11-21-32. The combination includes Watson's birthday.
 Watson watched the televised drawing as his winning numbers were drawn.
 "I didn't know if I'd won right off because I didn't have the numbers with me," said Watson, 79. "I checked 30 minutes later, and I couldn't sleep waiting for daylight." 
Watson, who is a retired truck driver, has two adult children and "several grandchildren and great-grandchildren."
 Watson has no immediate plans for his winnings.
 Since its first year, the Georgia Lottery Corp. has returned more than $12.5 billion to the state of Georgia for education. All Georgia Lottery profits go to pay for specific educational programs, including Georgia's HOPE Scholarship Program and Georgia's Pre-K Program. More than 1.3 million students have received HOPE, and more than 1.1 million 4-year-olds have attended the statewide, voluntary prekindergarten program.
 For more information on the Georgia Lottery Corp., please visit: www.galottery.com and www.lotterybenefitsgeorgians.com
Play Responsibly -- It's All About Fun!