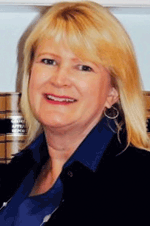 Rebecca L. Grist and Sarah S. Harris
Rebecca L. Grist and Sarah S. Harris will make history this election season as the first females to hold the positions that they will win, uncontested, in the July 31, 2012 primary election. Grist has qualified for the seat of Solicitor-General and Harris for Judge of Probate Court.
Born and raised in Macon, Georgia, Grist is a 1994 graduate of Mercer University's Walter F. George School of Law. She has served the community as a prosecutor for the past 18 years and in the past 15 years, has prosecuted the majority of the domestic violence cases in Bibb County. Grist also served 3 years as an Assistant District Attorney, prosecuting Child Support Enforcement cases.
Grist is a former board member and graduate of Leadership Macon and has been a member of the Junior League of Macon since 1994, serving a prior term as President of the organization. She is a board member of The Children's Hospital of the Medical Center of Central Georgia and is a member of the Wesleyan College Board of Visitors and the Macon Rotary Club. Dedicated to justice for victims of crime, Grist was integral in the conception and operation of the Salvation Army Safe House and is the Immediate Past-Chair of the Crisis Line & Safe House of Central Georgia. She is also a board member of the Crescent House and the Salvation Army.
The Solicitor-General of Bibb County is the head prosecutor and is responsible for prosecuting all misdemeanor cases in Bibb County, an excess of 15,000 cases. "This office has a long-standing tradition of stability in its leadership," said Grist. "In the past nearly 90 years, we've only had three Solicitor-Generals -- Clarence Clay served for 50 years, Oscar Long for 21 years and Otis Scarbary for 16 years. My desire is to continue this dedication and continuity in leadership; it helps this office to successfully prosecute the large caseload in a fair-handed, efficient and ethical manner."
Recognized for her achievements, Grist was presented the "Woman of Distinction" award by the Girl Scouts of Historic Georgia district and she was honored by Macon Magazine with the "Top 5 Under 40" and "Women in Business Community Outreach" awards.
"I grew up in a family of trailblazing women," said Grist. "My grandmother was the first female president of the United Way and the first Senior Warden at St. Paul's Episcopal Church," she continued. "I was raised not to be afraid to pursue whatever I dreamed and I give credit to my mother and grandmother for the success that I've achieved."
Grist is married to Macon attorney Joel Grist and the couple has two teenaged children.
Sarah Harris received her Bachelor in Political Science from Appalachian State University and her Juris Doctorate from Walter F. George School of Law at Mercer University.
A practicing attorney in Macon since 1986, Harris served as Approved Guardian for the Veterans Administration from 1986 until 2006 and as Guardian Ad Litem for Minors in the Bibb County Superior Court from 1988 until 2004. Since 1988, Harris has served as Guardian Ad Litem and Court Appointed Attorney for incapacitated adults and minors in Bibb County and several surrounding middle Georgia counties. She has also served as Judge Pro Tem for the Bibb County Probate Court since 1995.
Harris has presented several educational seminars including ICLE (Institute of Continuing Legal Education) Georgia seminars on Guardianship and Conservatorships, Basic Probate; the National Institute on Guardianship and Probate issues; Basic Probate Seminar CLE at Mercer University with Co-Presentee, the Honorable William J. Self; and a statewide seminar to the Department of Community Health, Division of Aging and Adult Protective Services, among others.
A member of the State Bar of Georgia and the Macon Bar Association, Harris has many community interests and affiliations including volunteering with the Pleasant Hill Community Garden and as an LH Williams Reading Tutor. She is a former member and Chair of the Junior League of Macon; former member of the Alzheimer's Association; former board member of the Macon Neighborhood Arts Association; former board member of the Hay House in Macon; and former member of the Board of Trustees and Chair of Stratford Academy in Macon. Harris is a member of Vineville United Methodist Church where she has held several service positions, including that of Administrative Board member and Finance Committee member.
Harris spends a great deal of time almost every week fielding phone calls from attorneys and sometimes judges in smaller Georgia counties answering Probate and guardianship questions and teaching attorneys how to do things in the Probate Court.  "If I could publish a representative client list it would include several superior court judges, two worker's compensation judges, a Ga. Court of Appeals Judge, a social security law judge and probate judges, not to mention several attorneys who I have assisted with personal family matters," said Harris.  "To me, that is the greatest compliment I can receive as an attorney."
Harris has been recognized multiple years by Georgia Legal Services for providing yearly pro bono and reduced fee services to the elderly in Middle Georgia. When the Medicaid laws changed in Georgia, Harris was one of a few attorneys in Bibb County trained by Georgia Legal Services to assist families who needed to become requalified for nursing home care, cases that were all handled pro bono and coordinated by Phil Bond of Georgia Legal Services. 
"We are fortunate that in Bibb County, we have one of the most highly regarded Probate Courts in the State of Georgia," said Harris.  "Judge Self and our Chief Clerk, Sherri Lanford are sought after constantly to assist other Judges and Clerks throughout the state and nationally.  I plan to continue this tradition of service and knowledge to our community," she continued.  "Our elderly population will only continue to grow and the need and dependency on this Court will expand as well; it is my goal to continue to improve technology and access to the Court and personal service to our community.  I also hope to continue to educate the citizens of our county about issues and concerns for the elderly.  The Probate Court touches the lives of almost every person in our county and it is my goal to provide quality, knowledge and professional service to those who seek our assistance."
The Georgia Informer recognizes women of achievement and congratulates Rebecca Grist and Sarah Harris on their upcoming positions of service to the Middle Georgia community. 
© Copyright 2012 by The Informer, Inc.
P.O. Box 564, Macon, • GA 31201 * Ofc:  (478) 745-7265   *  Email:  gainformer@yahoo.com