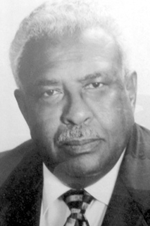 Albert Billingslea
IIt falls to me to deliver remarks on behalf of that mysterious association, commonly referred to as the "Cotton Avenue Mafia". The Boys for short. The Boys are seated before you and their names are listed on the program to protect the innocent. That the honor falls to me is by happen stance. It could have just as easily befallen Junior Barnes who has been a close associate and even closer personal friend for nearly six decades or to Bill Odom, a contemporary of Albert's and personal friend for an equally long period of time. Each of "the boys" would have been content to pay their respects and to grieve quietly today. Although the name "Mafia" suggests otherwise, there is nothing sinister about this association. It merely represents an opportunity for likeminded individuals to gather in furtherance of better serving the community, and to do so by using our influence and commitment to public service to achieve that goal.
Albert was our undisputed and unchallenged leader. The "Godfather" if you will. His successes and by association our successes were due entirely to his unparalleled leadership qualities and style. Hel led not through fear or by intimidation or coercion, but rather by example. He always opted to do the right thing, and when he did those things, he always did them the right way. His calm demeanor and quiet approach to problem solving often stood in stark contrast to some of the more militant elements among us. Never-the-less no issue was ever decided until The "Godfather" spoke. Despite the complexity of the issues before us we were content to follow his lead. A strategy which served us well indeed.
In recent memory Albert would frequently remind us that the job was yet unfinished and the task incomplete. It was an admonition to us to remember to pass the baton. He would remark that "I am getting tired, I am too old to continue fighting as hard and as long as I have". " I am not going to be here forever". Albert was not a fatalist with regard to death, neither was he afraid to confront his mortality. Those of us who knew him well knew that he not once, but on several occasions stared down the grim reaper. He survived and transcended health challenges that would have dispatched lesser men to meet their makers with hardly a miscue. When he acknowledged that he would not live forever I would remind him that he may become the first to do so. He dodged more bullets than the Lone Ranger. I would often remark to him, "Albert you are like a cat with nine lives", at which time he would remind me that the man upstairs can count to ten. It was his way of telling us not to forget to finish the job.
Albert was many things to many people. He was first and foremost a family man. Margaret you and the girls and the grand children and great grand children are a testament to that fact. He was a public servant and civic leader. and his life's work is testimony to that fact. He was a successful businessman. The architectural landscape of Macon abounds with his handiwork. He was a public servant, civic leader, businessman, family man, and above all else a gentleman. Everything he did he did with dignity, respect for others and decorum. Albert knew how to cuss, but he seldom did. He never raised his voice or sought to elevate himself at someone else' expense. Albert displayed many admirable qualities, but what I admired most about him was his selflessness. That he was a good man may be said about many men. That he would give you the shirt off his back is not particularly uncommon among men. What distinguished Albert from the rest of us was that he did so without ever seeking any credit for what he did, content to let others bask in the glory of his accomplishments. When accolades came his way he was more likely to deflect the attention elsewhere than to receive it himself. Albert was the quintessential Ninja, the Stealth Fighter, always flying beneath the radar, working behind the scene. You would not know he had been there but for the harmony, progress and successes in his wake. With Albert less was always more. Everything he did, he did with moderation and frugality, leaving the extreme positions to others.
Associates have come and some have gone on. Sonny Davis, Charlie Wynn, D. T. Walton, Jesse Carter, Bob Ensley, but today we sail uncharted waters, without our compass and without a rudder. By dead reckoning we will keep our course. Margaret the message the boys wish me to convey today is one of thanks and immense gratitude. Judging by the time Albert spent on "the avenue" either managing his businesses or conferring with the boys; it undoubtedly represented a sacrifice by his family. Thank you for allowing us to be a part of his life, and therefore a part of yours. Thank you for sharing him with us.
These remarks were made at the funeral of Albert Billingslea.
© Copyright 2010 by The Informer, Inc.
P.O. Box 564, Macon, • GA 31201 * Ofc:  (478) 745-7265   *  Email:  gainformer@yahoo.com